Astaldi Group has adopted a business model whose characteristic is an integrated offer able to carry out projects from the "sketch" to management, under concession formula. Following the decision to focus Astaldi business on EPC contracts, with a more stable financial structure, concessions contracts became an incentive to the group's growth, especially when including Operations & Maintenance activities, which ensure stable cash flows.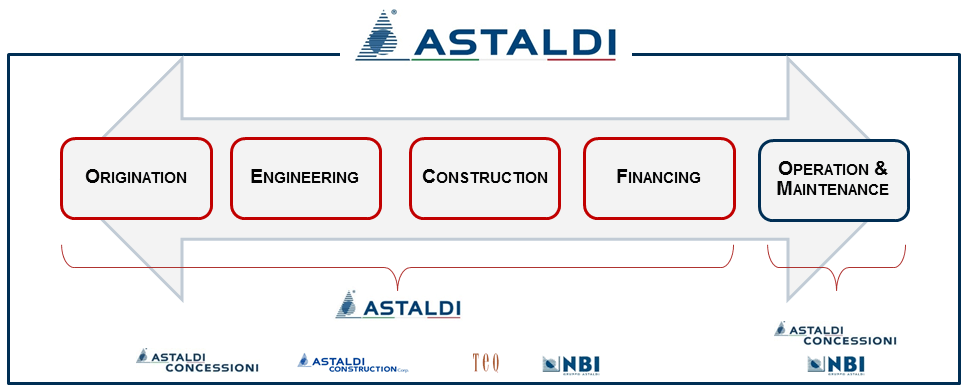 Astaldi Group's main companies
COMPANY

REVENUE

DESCRIPTION

Astaldi concessioni

EUR 11 million

ASTALDI CONCESSIONI (100%-owned by ASTALDI) is the ASTALDI GROUP company dedicated to developing and operating concession and project finance initiatives.

The company was set up in 2010 as part of a broader project to streamline ASTALDI GROUP's activities in the Concessions segment which entailed the standardisation of skills and know-how acquired at a central level, in terms of planning, organisation and start-up of these specific projects, within a vision of consolidating its integrated offer capacity. ASTALDI CONCESSIONI is now an independent and highly specialised company, also able to work in partnerships with leading operators of private and public infrastructures

Astaldi construction corporation

USD 88 million

ASTALDI CONSTRUCTION CORPORATION (100% owned by ASTALDI) is the company operating under U.S. law, based in Florida, which has handled the Group's activities in the USA for over 20 years. It performs transport infrastructure construction projects (mainly motorways and viaducts) for public counterparties.

TEQ

CAD 92 million

TEQ Construction Enterprise (TEQ), is the Astaldi Group company dedicated to supporting development of the Canadian market. TEQ is based in Montreal, operates within the Canadian province of Quebec, and boasts specific skills and know-how in the civil construction segment,

NBI

EUR 110 million

NBI (100%-owned by ASTALDI S.p.A.) is the Group company dedicated to developing the Facility Management and Plant Engineering segment, specialising also in Renewable Energies, Engineering and Management of Complex Systems.

NBI is among the leading Italian companies working in the Engineering and Civil and Industrial Plant Engineering segment in the private and public sectors, also thanks to the high level of specialisation it can boast.