Project Highlights
| | | |
| --- | --- | --- |
| | Sector | water and energy |
| | Country | Indonesia |
| | Location | Java island |
| | Type of Contract | E.P.C. |
| | Contract value | USD 234 million, 30% Astaldi stake |
| | Customer | PT PLN PERSERO (public energy plant management) |
| | Contractor | Joint Venture ASTALDI (30%), DAELIM (Leader, at 40%) and WIKA (30%) |
| | Progress | in progress |
| | Construction | from 2016 |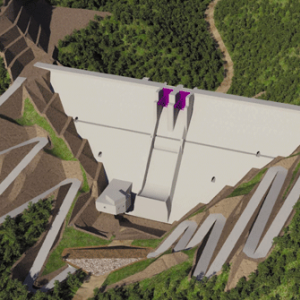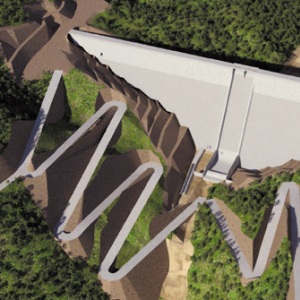 Description
The Upper Cisokan project is one of the most important project currently underway in Indonesia in the hydroelectric sector.
The secured contracts call for carrying out all the civil works related to the construction of two dams, the Lower Dam and Upper Dam, respectively 75 and 98 meters in height, for a total volume of 1,000,000 m3 of RCC (roller-compacted concrete). The work is complete with the intake and conveyance systems, 6 km of tunnels up to 10 m in diameter, an underground power station (26 m wide, 51 m in height, and 156 m long), ventilation works, and an electrical substation.
Planned installed power is 1,040 MW due to an H24 working cycle: the plant ensure the raising of water masses through a pumping system from the Lower to the Upper Dam at night, and electricity generation during the daytime by inverting the water flow cycle.
The works will be carried out in a joint venture with Korea's Daelim (40% stake) and the local Wika (30%). Total value of the project is US$ 234 million, funded by the World Bank.